Meet the Artists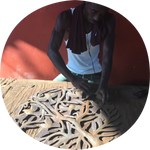 Founded in 1990 by a multinational group of young entrepreneurs, Caribbean Craft promotes employment in Haiti by training unskilled craftspeople, and by assisting the independent artisans through the introduction of new designs and new market outlets for painted Haitian metal art.
Caribbean Craft's specialty is the brightly colored, artistically hand-painted Haitian metal art wall hangings. These hand-painted Haitian metal art pieces are truly works of art. Wall art designs include painted metal geckos, painted metal dragonflies and painted metal frogs.
The artisans of Tecalpulco, Mexico have long been known for their silver and abalone jewelry. ArtCamp, short for Artesanas Campesinas (or rural female artisans), is a women-owned cooperative that continues this tradition. The group constantly introduces new methods, materials, and machinery to compete in the highly competitive jewelry market, even surviving a collapse in the marketability of their pieces in the 1990's after jewelry from other countries flooded the US market. The artisans have become business women, understanding the importance of customer service, quality, and design. Their product range includes semi-precious stones, shells, and even tiny flowers captured in resin. Each piece is accentuated by silver alloys or precious metals, and represents the tradition of fine Mexican jewelry .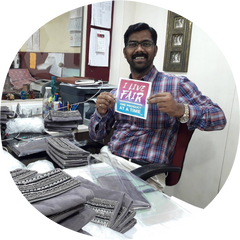 India has always been renowned for its rich silk fabrics, woodcarvings and carpets. However, many of these products are produced in conditions of abject poverty for the craftsmen, exploited by large producers and moneylenders. Asha Handicrafts is a not-for-profit making body, based in Mumbai, India, working to promote Fair Trade and Fair Trade practices. As a member organisation of theThe World Fair Trade Organization , Asha Handicrafts ensures that the benefits of handicraft production reach the craftspeople themselves.
Based in Mozambique, BaobArt is a collective of over twenty artisans from impoverished zones in and around the Maputo City center. Brought together by craft enthusiasts who helped them grow production, the artisans now have access to global markets and with this access comes the ability to support their families and communities. BaobArt artisans produce a wide range of traditionally inspired crafts, specializing in the use of local and renewable wood and recycled materials in stunning jewelry and home decor. The artisan's extensive training and love for their art is visible in the high quality of each carefully crafted piece.
CFM, Community Friendly Movement is a social enterprise based out of New Delhi, India whose mission is to create income for its primary stakeholders, artisan communities in rural India, by working directly with the community, reducing the number of levels in the chain, and increasing the sustainable income of the individual. In addition to international marketing support, CFM trains groups on the importance of quality, enabling producers to create high quality, internationally-marketable goods.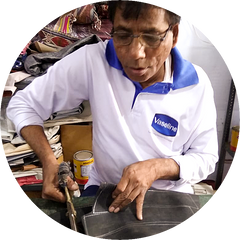 Born of a desire to reduce India's mountain of waste, improve energy efficiency, and help some of Delhi's poorest out of the city's slums, Conserve India achieves all this by turning plastic bags into high fashion handbags.
Conserve started as a fledgling recycling project but quickly adapted to confront the biggest challenge it was facing, what to do with the thousands of plastic bags that could not be composted or recycled locally.
After much experimentation, the Conserve team hit upon the idea of not recycling, but upcycling by washing, drying, and pressing the bags into sheets.  Handmade Recycled Plastic (HRP) was born and designs for handbags, wallets, shoes and belts quickly came flooding in.  The challenge was obvious: Use high fashion to support better lives for the poorest and a cleaner environment for all.
Living in an underprivileged community approximately 30 minutes from Phnom Penh, Cambodia, artisans make jewelry from recycled bomb shells and bullets. These artisans use bomb casings left over from Cambodia's wartime three decades ago.
These artisans skillfully mold bomb shells into beautiful jewelry pieces. With the support of Craftworks Cambodia, the artisans generate an income that will provide their families and their communities the chance at a better future. Through Craftworks Cambodia, the artisans make a fair wage for their work and receive support for education and training in the communities in Cambodia.
When you visit Croix des Bouquets, the area of town known for Haitian metal art in the capital of Port-Au-Prince, you are met with a cacophony of tink, tink, tink as ball peen hammers strike sheets of steel. The sheets are cut from steel drums colored by oil and other liquids the drums at one time held. The process of turning sheets of metal into beautiful wall art is all done by hand, from cutting holes that become edges of trees and leaves, to accenting each lizard with a texture of scales, to painting or lacquering the final design. The artists are proud of their work, signing the pieces on the back side, leaving a raised, reversed signature on the front.
There's no sign to find the small family-owned ceramic workshop in the state of Guanajuato. Behind the large wooden gate, women artisans are hand painting unfired ceramics while men work the kilns, as they have since the late 70's. Each piece has personality from the dots and swirls to the handpainted logo on the bottom. And each is lead free, microwave and dishwasher safe.
Global Groove is a fair trade organization working with women by supporting and developing artisan co-ops in Thailand and Nepal. The Fair Trade industry is expanding and we are proud to be a part of a sustainable movement that is changing lives. We design, develop, produce and source fairly traded lifestyle products with a commitment to the sustainability of production and the cultural heritage of the groups that we work with. We inhale its people, its landscapes, its colors, its flavors, its very scent, and we exhale to create inspirational products symbolic of our traveling experiences. Global Groove encourages travel because the knowledge, acceptance and understanding of different ways, people and ideas is the very colorful road to a respectful, safer, kinder world.
Global Mamas creates hand-crafted accessories, apparel, decor, and skin care items using traditional techniques, maintaining local artisanal skills. Each product is full of life and love, and is crafted with the utmost quality. The producers in the Global Mamas network have worked together for over a decade in Ghana, West Africa developing products that resonate with consumers all over the world, and in-turn have created prosperity for themselves and their families.
Working with more than 100 individual carvers in Machakos, Kenya,Jedando Modern Handicrafts markets african handicrafts primarily made of wood and bone worldwide. Carving is a tradition in Kenya with the children learning the craft from their parents. Carved by hand using only rudimentary hand tools, olive wood bowls, salad serving sets, and animal-shaped napkin rings take shape from pieces of olive wood, mahogany, and mpingo, or "African Ebony".
An integral part of the organization's function is to educate the craftspeople on the need for reforestation to enable the products to be available for years to come and offer a sustainable income for generations. While wood carving provides the major income for many in the Machakos area, other craftspeople earn a living by further enhancing the products including painting the napkin rings and carving discarded animal bone for the handles of salad serving sets. Often the bone is "batiked" by placing wax on the white bone and dipping the bone a dark brown/black dye, resulting in patterns African mud cloth designs.
MATR BOOMIE is a fair trade collection from India that marries modern design sensibility with inspiring traditional art forms, bringing people and cultures closer together. With the mission of creating opportunities for women and minorities to realize their creative, economic and leadership potential. They have grown to empower 20,000 artisans in 40 partner communities throughout India.
An NGO, Noah's Ark Handicrafts & Artisan Welfare Society, was created in 2000 to advance the charitable activities of the organization, which now include clean water, education, health and capacity building initiatives. Through our work, we give an identity to the artisan's craft and help them to appreciate the value of their products while ensuring they have the skills and resources to succeed in a changing market. Like the biblical story of Noah's Ark that symbolizes the concept of saving mankind, we strive to save the art of making handicrafts.
Sustainable Threads is committed to cultivating long-term fair trade relationships with low-income artisan communities. The artisans they work with are scattered across India and face diverse challenges and social concerns. They have a specific emphasis on artisan cooperatives and groups employing marginalized women and aspire to provide these artisans access to fair wages, larger markets and secure, sustainable livelihoods.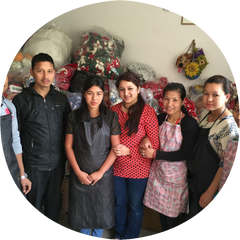 dZi Inc. has been working with artisans in the Tibetan exile community in India since 1990, and with Nepali artisans involved in traditional Tibetan style crafts since 1995. Their products are marketed as part of dZi's 'Tibet Collection' line.
Authentic cloth prayer flags printed on hand-carved woodblocks are specially made for dZi by The Gu-Chu-Sum (9-10-3) Movement of Tibet, established in 1991 and based in Dharamsala, India. Gu-Chu-Sum was first organized by ex-political prisoners from the Tibetan freedom movement; monks, nuns and lay people who had escaped from Tibet due to political persecution. Its purpose is to provide employment and support to Tibetan refugees needing help in India, and to educate about human rights abuses in Tibet. You can try to visit www.gu-chu-sum.org, but the Chinese Government regularly sabotage their site!
dZi's screen printed prayer flags are made by the Tibetan Nuns Projection (TNP), also based in Dharamsala, India. TNP's mission is to provide a safe and supportive environment and education for Tibetan nuns who have fled Tibet for reasons of religious and political persecution. Visit tnp.org to learn more.
dZi's Paper Prayer flags and incense are made by Tibetan Handicraft in Kathmandu Nepal, a member of Fair Trade Group Nepal and leader among the handmade paper export community. This business supports hundreds of people in the local community through it's income generation enterprise, and runs an elementary school providing free and low cost education for local children.
Sales of the all the above-mentioned products help to support the mission of these organizations and businesses.
Founded by Zimbabwean-born artist, Jeremiah Makaza, this family run business has rapidly grown into a leading international exporter of Zimbabwean-made Sadza Batiks.
Set in the heart of Tynwald Industrial Park in Harare, Zimbabwe, Tonga Textiles is comprised of a dedicated team of artisans.
Through art, we believe we can make a positive difference in society. Tonga Textiles employs both men and women in the community. Through our training program, our artisans are empowered to work for themselves, thus alleviating poverty within the community. Tonga Textiles is a fair-trade company.
Our values of sustainability practices, quality and teamwork are at the heart of all our work.
Over the years, our products have evolved into contemporary pieces, showcasing the true essence of an African lifestyle. Our batiks are unique and every piece is authentic. The process is all hand-made and monitored to the very last detail.
Our goal is to not only meet your expectations, but to also EXCEED them!
World Peaces is a Fair Trade company committed to creating a more peaceful world through ethical trading partnerships of sustainable handcrafted accessories and home goods. We all deserve to be happy, healthy and to increase our contributions to betterness. We believe that peace is something we create together.
WorldFinds is a member of the Fair Trade Federation. They regularly travel to connect with our artisan groups in India, Indonesia, and Nepal, and each time it is evident how Fair Trade practices have changed their lives – they have been able to hire more women artisans, improve educational programs and send their girls to school, and expand healthcare initiatives. They continue to be the heart and soul of WorldFinds business.
WorldFinds mission is to create positive change, build hope, and design beautiful, sustainable products for a better world. It's a business using fashion and design to combat poverty.